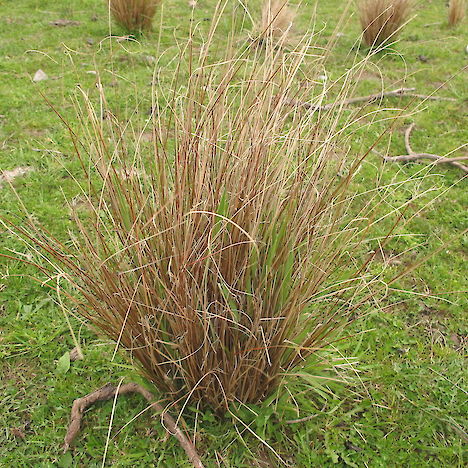 Key Features
Tall, stiffly erect, tufted sedge with mostly reddish-brown culms and leaves.
Leaves are flat on one side and convex / rounded on the other.
Colourless glumes and usually dark-coloured utricles.
Distribution and Habitat
Uncommon in North Island.
More widespread in South Island, but scarce in Southland and possibly absent from Westland and Fiordland.
On beaches, lagoon, lake and stream margins, or in damp ground within open forest or short tussock grassland.
Coastal to montane (up to 1,000 m above sea level).
Threats
Drainage and modification of wetland habitats and weed competition, especially in lowland sites.
Management Opportunities
Survey for new locations.
Mark known sites.
Protect habitat.
Ensure that forest owners are aware of potential habitats and can recognise the species.
Monitoring Options
Check existing populations annually.
Report new locations to DOC.
References
New Zealand Plant Conservation Network (NZPCN). http://www.nzpcn.org.nz
Johnson P. and Brooke P. (1998). Wetland plants in New Zealand. Manaaki Whenua Press, Lincoln.