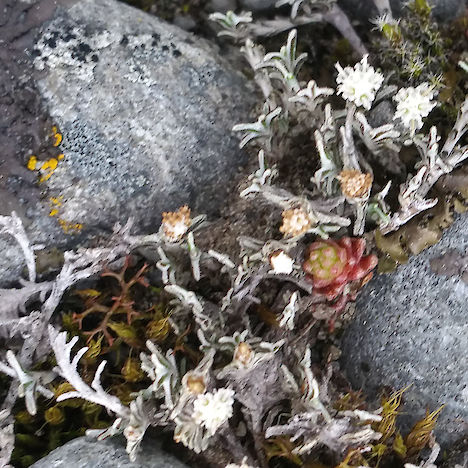 Key Features
A small, loosely mat-forming daisy, with prostrate stems and upright branchlets. Small (2-3 mm long) narrow leaves are densely clad in white hair. Unlike most other Raoulia species, the leaves are borne in two rows along the stem and thus branchlets have a flattened appearance. Small (5 mm) flower heads are borne terminally.
Distribution and Habitat
South Island, from Nelson to Otago in open ground and rocky places on river terraces and stable river gravels.
Threats
Habitat modification and loss.
Competition from weeds.
Management Opportunities
Survey for new locations.
Mark known sites.
Protection of habitat.
Weed control.
Monitoring Options
Check existing populations annually.
Report new locations to DOC, NZPCN.
Further Information and Support
New Zealand Plant Conservation Network (NZPCN). http://www.nzpcn.org.nz
Weed management - Department of Conservation, Regional Councils.
References

Allan (1961). Flora of New Zealand. Volume I. Government Printer, Wellington.